| | |
| --- | --- |
| EML | |
2nd Workshop on Computation of Biochemical Pathways
and Genetic Networks
Villa Bosch
Heidelberg
June 21-22, 2001
Organized by
Bioinformatics and Computational Biochemistry Group
European Media Laboratory
Heidelberg, Germany

Contact:
Ursula Kummer
Bioinformatics and Computational Biochemistry Group
European Media Laboratory
Schloss-Wolfsbrunnenweg 33
69118 Heidelberg
Germany

Scope:
The postgenomic era (as it is often called) aims at an increasing understanding of the complex biochemical network which is present in each cell, rather than at studying individual functions of specific enzymes and specific genes. This is a very ambitious goal. The 2nd Workshop on Computation of Biochemical Pathways and Genetic Networks focused on the current state of research in this area at different levels of abstraction.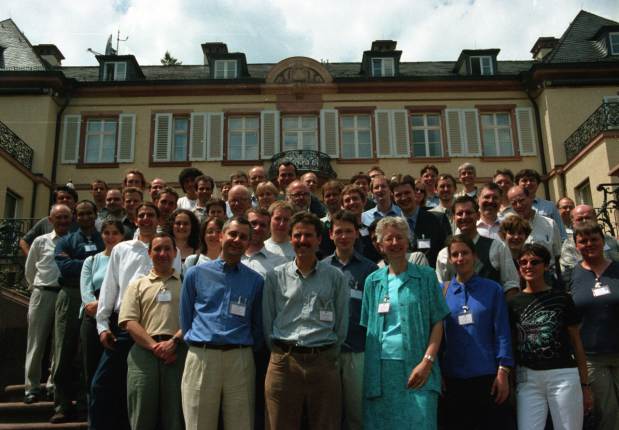 Sessions:
Topology of biochemical networks
Genetic networks
Dynamics of biochemical processes
Simulation of biochemical pathways
Invited Speakers:
Albert-Lszl Barabsi, Notre Dame, IN, USA
Martin Falcke, Dresden, Germany
David Fell, Oxford, England
Andrew Finney, Pasadena, CA, USA
Hanspeter Herzel, Berlin, Germany
Wolfram Liebermeister, Berlin, Germany
Pedro Mendes, Blacksburg, VA, USA
Lars F. Olsen, Odense, Denmark
Aviv Regev, Tel Aviv, Israel
Marcel Reinders, Delft, The Netherlands
Preben G. Srensen, Copenhagen, Denmark
Mattias Wahde, Gteborg, Sweden
Ioannis Xenarios, Los Angeles, CA, USA
Ralf Zimmer, Bonn, Germany
Sponsor
The workshop was sponsored by the Klaus Tschira Foundation .

---
Imprint/Privacy